Click here for a pdf of the 2017 Show Flyer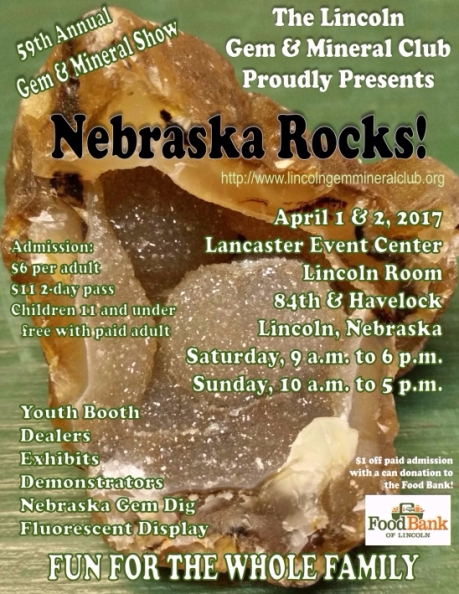 General Meetings

Bethany Park Shelter House
Youth Meeting: 6:00 p.m.
Adult Meeting: 7:00 p.m.

Thursday, October 20, 2016

Thursday, November 17, 2016

Sunday, December 4, 2016

We welcome all visitors!

Roadside Clean-up

Saturday, October 8, 2016

1:00 p.m.

Meet at the Hickman Rest Area

Highway 77 and Hickman Road

Rock Party to follow at

the Marburgers

If you want to discover more about Nebraska's geology,
check out these publications authored/co-authored
by long-time LGMC member, Roger K. Pabian.


Record in Rock Minerals & Gemstones of Nebraska

Membership

Individual - $15 per year
Couple - $25 per year
Youth (age 15 and under) - $ 2 per year (with responsible adult)




Thursday, March 2, 2017, 4-8 p.m.

Lancaster Event Center

Member of the American Federation of Mineralogical Societies

Member of the Midwest Federation of Mineralogical and Geological Societies

Member of the Nebraska Association of Earth Science Clubs, Inc.

Member of American Lands Access Association, Inc.